Latest Novel by Dan Henk available now! Get your copy...
Down Highways in the Dark... By Demons Driven
Legends and old wives tales hold a truth-but we've forgotten the chaos that lies behind them. Strange worlds and creatures lie all around us. Humanity was once a slave, and is still the prey of creatures no one dreamed existed. The universe is much darker and stranger than we can ever imagine. Our world borders a multiverse and the walls are dangerously thin. Now, it is collapsing, a seething abyss is swarming in, and nothing will ever be the same again. Some children are adepts-mutants that have developed powers even they don't understand. But there is precious little time for them to learn the truth. No one is your friend, there is no help and there is no way out.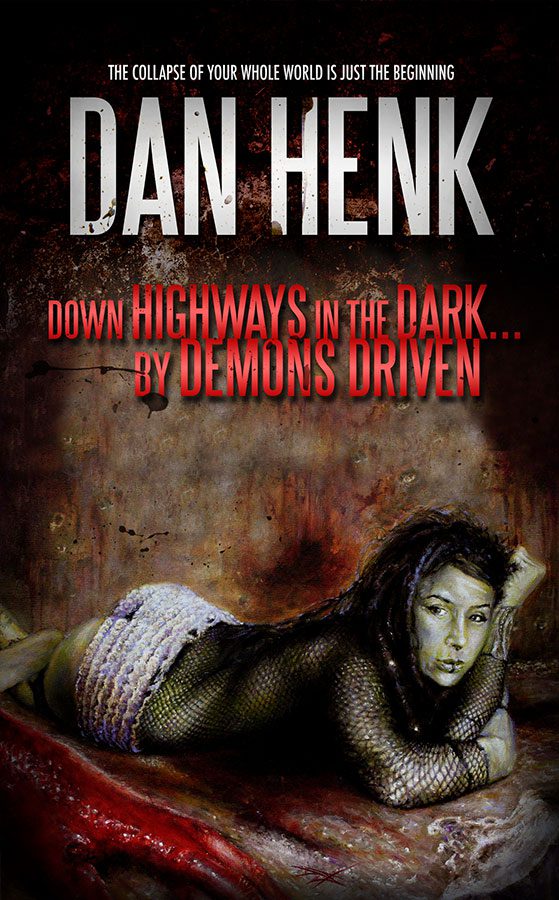 "Henk writes with vitality and dark abandon, plunging you into a world where the main currency is fear."
-Wayne Simmons, Bestselling Author of Flu and The Girl in the Basement
"Dan Henk's tales will chill your spine like nightmarish vision somewhere between the sleeping world and the waking one. His illustrations perfectly compliment these stories: gritty, cold, and ghastly."
-Jason Edmiston, commercial horror artist for Rue Morgue, Topps Cards, The Wall Street Journal, and many more
"Pull the covers over your head and pray that thing staring at you from the closet doesn't come out. Dan Henk brings that hand, reaching for you at the bottom of the stairs, right to your neck. With fear and that ever-loving 'What if Dan makes even the shadows quake."
-Tommy Castillo, artist and writer for Marvel Comics and more